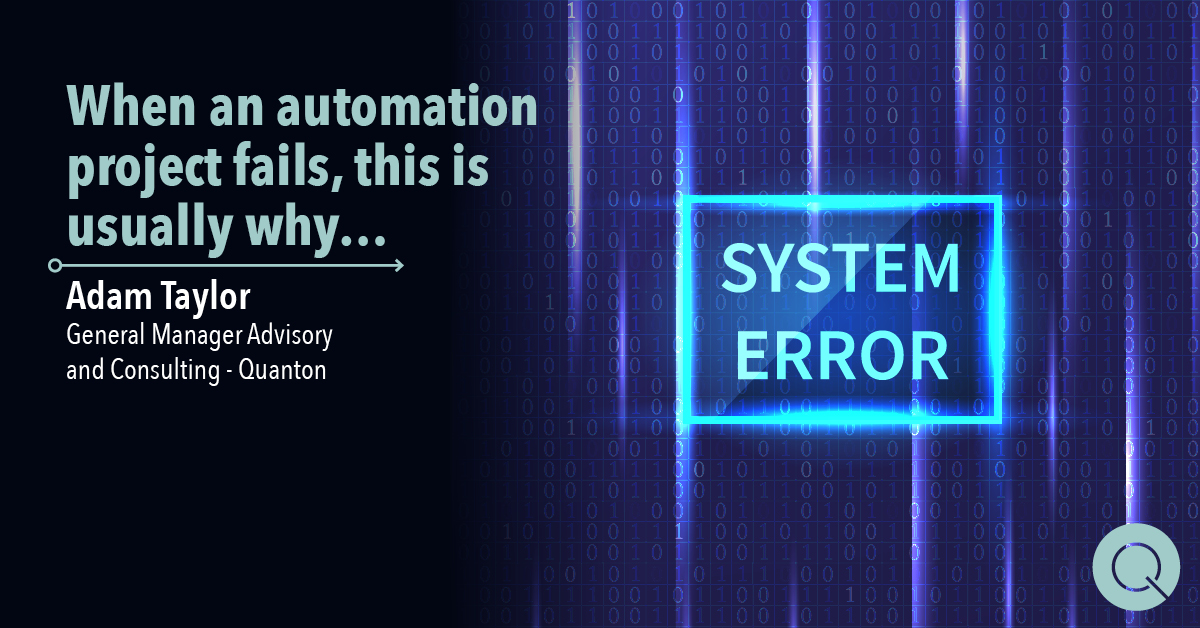 When you look at RPA or content intelligence, there are so many organisations doing it wrong, making huge mistakes and giving Robotic Process Automation and content intelligence a bad name. Why? In so many cases it comes down to one simple thing: They've forgotten the people part of the equation.
Automation isn't a technology project or a business automation, it's a business change solution.
In my 15 years in the industry, I've always focused on people, process and technology. I still firmly believe that technology is the final piece of the puzzle. You start with people. Watch an exclusive video presentation (and download a copy of the slides) to hear Adam discuss this topic in detail as well as how businesses can adapt to the future digital ecosystem, and assess the skills and scale that business leaders need to ensure automation delivers sustainable benefit.
The industry has shifted. We've hit the fourth industrial revolution but we're also seeing massive change in the workforce through the new generation of workers and their desire for flexibility, for purpose fulfilling work and for the latest technology to help them achieve all they want to achieve at work. Culture is now an important factor for potential employees choosing whether they want to work for your company.
At the same time Gartner has forecast that by next year - 2020 - customers will manage 85% of their relationship with enterprise organisations without interacting with a human.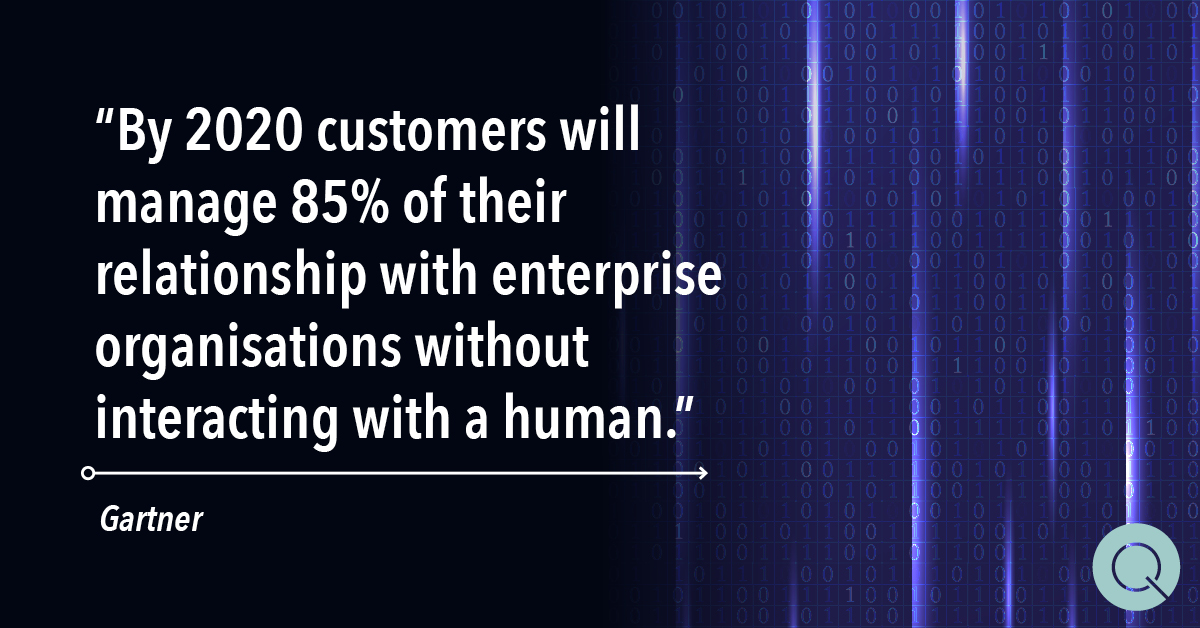 All of this means the competitive landscape is shifting at a faster rate than we've ever seen before.
That's fuelling the adoption of digital automation - from content and process intelligence and robotic process automation to artificial intelligence and natural language processing and machine learning – and the move to automation, which is reshaping every aspect of the modern organisation.
The big fails
You've probably seen some of the stats. Professor Leslie Willcocks of the London School of Economics, says reports provide anecdotal evidence that between 30% to 50% of initial RPA implementations are stalling, failing to scale, being abandoned or moving to other solutions.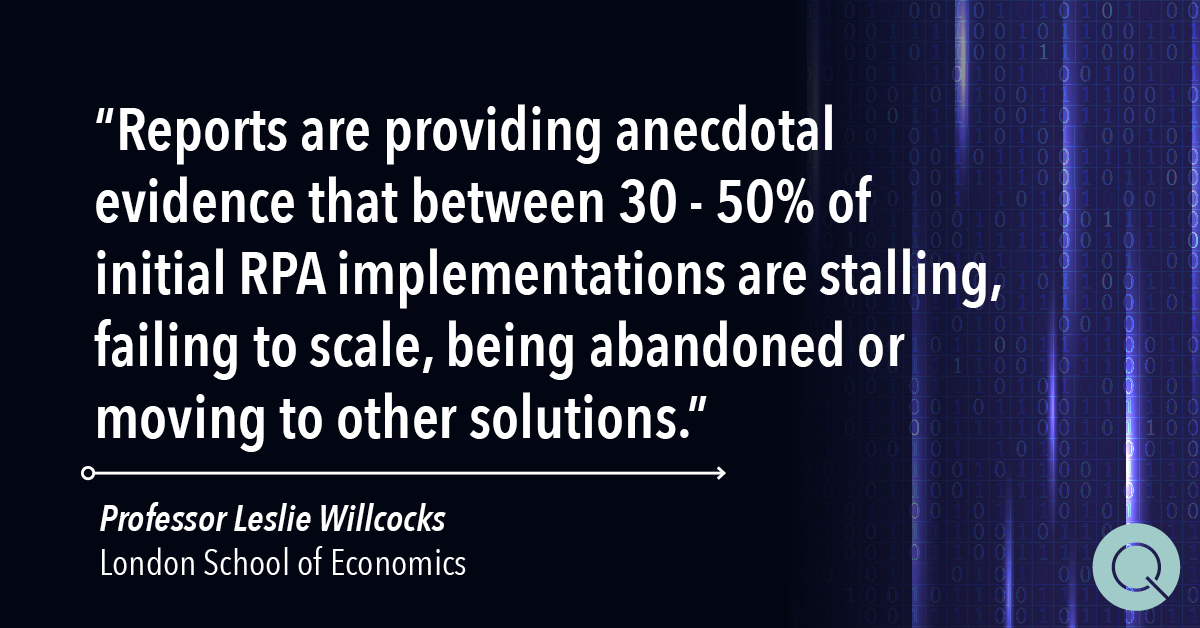 But if intelligent automation, which is the integration of digital technology into all areas of a business, is reshaping the modern business, from customer experience to product and service innovation, digital fulfilment to risk optimisation, where's it all going wrong?
And this is where I go back to people.
Automation is not a technology project. It's a people project. You're introducing a whole new way of working, a digital workforce. And before you do that you need to focus on your governance, your people change management, your compliance.
How will you mature your automation as well as manage this new capability once it's in? Because it's one thing putting technology in, it's another thing managing that tech within the business on an ongoing basis.
Five critical steps to help businesses build a successful automation programme
One: Determine Business Impact Analysis
Before you do anything or plan your organisational design, determine what the business impact is to your culture and values, and what your business readiness is to do this. Who are your stakeholders?
Focus on what impact this will have on the people and start planning your change management first. That's priority one.
Two: Digital Workforce On-Boarding Process
Once that's done, develop a digital workforce on-boarding process, and understand what your environment needs to look like. How you're going to train and define your roles and responsibilities. Robots can't be accountable. So, who is accountable for a process and who will be responsible for ensuring the process is run? You need to have your roles and responsibilities set up and clearly defined prior to introducing a digital workforce, it's important that your people still know they're responsible for the process and outcomes.
Three: Develop Business Continuity Plans
A critical success factor is having a business continuity plan for the digital workforce. Six months down the track, when you're reliant on a digital workforce, what happens if it stops working? Do you have a business continuity plan in place for such an event?
Four: Determine Your Service Model
Develop a tailored service model with a focus on how the Digital workforce is supported. Do digital workers become higher priority tickets for IT service desks than human workers, because when they stop working the whole process stops? How do you separate a human ticket versus a digital ticket from a priority queue?

Five: Clearly Define Roles and Responsibilities
And at an even higher level, who is responsible for automation at an organisational level? Design a governance structure for your organisation to align planned resources with deliverables, determine expected benefit, ensure that expected benefit is aligned to strategic drivers and realise the benefit.

Looking long term
Here at Quanton, we've been approached many times by customers of other business automation providers, who say 'they came in, set up a technology and helped us get started, but they've gone now, and we don't know what to do longer term'.
The partner has left without providing the wider thinking or holistic organisational approach companies so desperately need.
That's driven us to increase our push to look at RPA holistically; to provide an end to end solution, rather than just one piece of automation technology. For more on this topic watch a video presentation (and download a copy of the slides) from Adam as well as how businesses can adapt to the future digital ecosystem, and assess the skills and scale that business leaders need to ensure automation delivers sustainable benefit.
Because it's not about selling a piece of technology - it's about selling the idea of what the technology can deliver and how it can be deployed and used within individual organisations to deliver some immediate value – and so much more in the future.
We want to help customers scale and grow their automation lifecycle and journey, beyond just RPA, using RPA as the foundation to enable that growth.