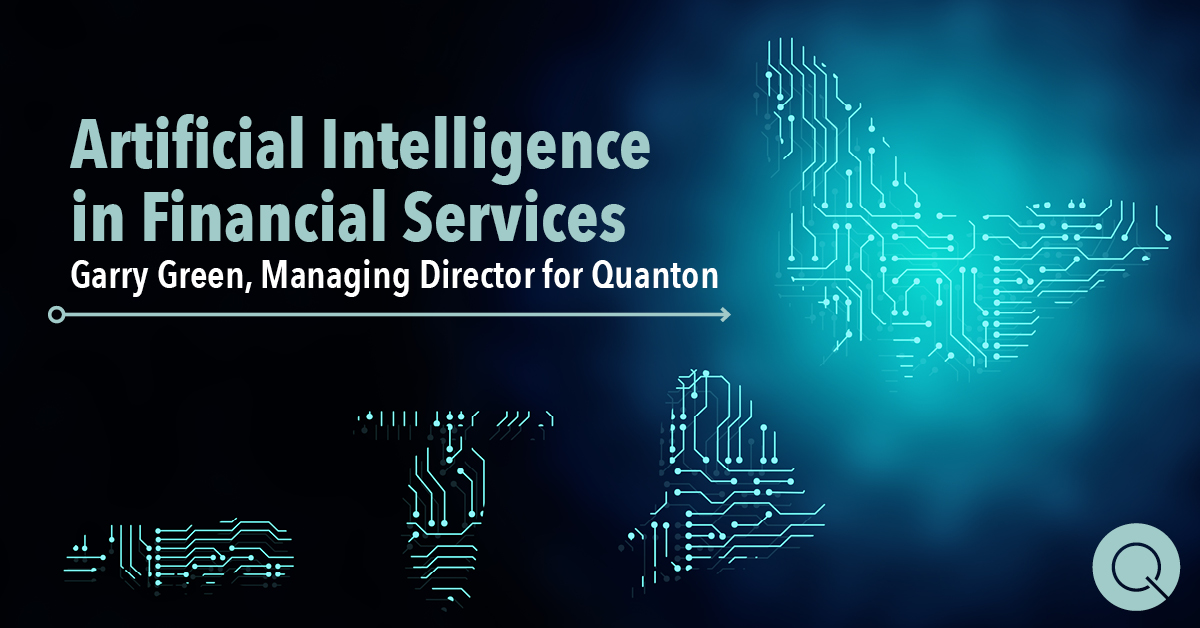 In the wake of the AI Forum's report into Artificial Intelligence for the Financial and Insurance Services in New Zealand, and as a panelist for the joint event by AI Forum NZ, FinTechNZ and InsurTech,
Quanton Managing Director Garry Green outlines where companies can win big with AI –
and some of the challenges they first face.
---
When it comes to AI the pace of change is rapid that unless businesses adapt and adopt quickly they will struggle. There's a real risk that if financial and insurance businesses don't put AI and automation into their value adding workflows over the next five years, their competitor who have adopted these technologies early and the disruptions will thrive at their expense.
Those companies brave enough to be early adopters will dominate the scene. Those who lag in getting out of the starters blocks will just make it, but those who are late to the party, or don't embrace AI and automation, will become dinosaurs. These disruptive challenges are compounded by the hard reality of business facing increasing compliance requirements, legacy issues and cost pressures.
As specialists in robotic process automation, the team here at Quanton works with a lot of financial and insurance organisations - and I recently took part in a panel at the AI in New Zealand Banking, Financial Services and Insurance conference, where the AI Forum's report into Artificial Intelligence for the Financial and Insurance Services in New Zealand was launched.
The AI Forum of New Zealand's AI for Financial and Insurance Services in New Zealand report notes that with spending on AI in insurance set to triple by 2023, this is a growth area. New Zealand businesses can increase their rate of AI adoption by formulating an executable single strategy that incorporates AI.
It says there's up to $6.4 billion in labour efficiencies to be made by 2035 in New Zealand's economy through AI driven labour efficiencies.
So, where's that benefit going to come from?
After a number of years helping Kiwi businesses with their automation projects, I see plenty of opportunities, including around increasing productivity - an area New Zealand sadly doesn't excel at.
The amount of work people are being required to do is increasing and the question is how can you do more without having to throw more people into the mix?
Part of the answer lies in using the people you have to do more productive, higher value work and handing the mundane tasks off to technology.
Everyone is looking for the big sexy use of AI and automation, but the reality is it comes back to all the mundane stuff that needs to be done in business - the back-end operations that so many businesses get bogged down in.
The AI for Financial and Insurance Services in New Zealand report notes that ANZ New Zealand's parent reported improvements in automation through robotics and machine learning, as a highlight in its half year results. In fact, that automation resulted in a reduction in turnaround times by up to 40 percent in trade, credit and customer service.
The report provides plenty of food for thought and I hope it will stimulate conversation and debate and make people think about how they can use the technology and the role it can play in their business.
At Quanton we see first-hand the benefits clients can gain from automation. As the AI Forum report notes, RPA can help automate ledger reconciliations and streamline IT support, potentially resulting in cost savings of up to 40 percent.
We're also seeing big benefits in the risk and compliance arena.
We've seen customers spending up to 80 percent of their time dealing with compliance, admin and paperwork, rather than their customers. A number of customers have told us they spend 30-40 minutes per client in prep and then another 30 minutes after a client meeting doing admin for that client.
Using automation, we took that process away from them and it made a massive impact, freeing them up to see clients and go through their needs, rather than being bogged down in the paperwork.
Educating the decision makers
But there's an issue facing many businesses in their implementation of AI and automation and it lies with the way most businesses are structured. In order to get this new technology into play in a business, you've got to abide by the existing rules in how they run projects. That's all well and good, but it can add significantly to the cost of automation because they're looking at how things are done now, not in the future. That corporate overhead could be one or two times the cost of automation.
Agile approaches, minimum viable products and sprints are a great way to enable the projects to move forward more rapidly. But there is a wider education process needed for business decision makers and senior managers because no matter how good the team driving the automation and AI projects forward, bureaucracy of a big enterprise can often reduce the value they can deliver and extract.
Meanwhile, the small startups, without overhead and bureaucracy, design their businesses around new ways of working and agility and leveraging the technologies - and streak ahead.
Technology is just one part of the equation. People, processes, systems and information also need to be aligned. Ultimately it's got to be a transformation process.
While the AI report provides a broad view of the challenges faced by organisations in implementing AI, our hands-on experience has taught us there are around 60 risks to implementing the technology that companies need to address.
If you're going to climb Everest, you're not going to do it without a Sherpa
That complexity is why the report recommends partnering, saying partnership plays a big role in successful implementations.
While we might be little biased, we agree wholeheartedly. We've been through this process many times with clients of all sizes, in a wide range of industries and can walk you through the process and ensure you know about all those risks and challenges before they become an issue for you.
Because at the end of the day, if New Zealand is to reap the full benefits outlined in the report, we all need to play our role, embrace change and adopt new ways of working. Importantly you don't have to do it on your own, there are experts out there that can guide you on your transformation journey.