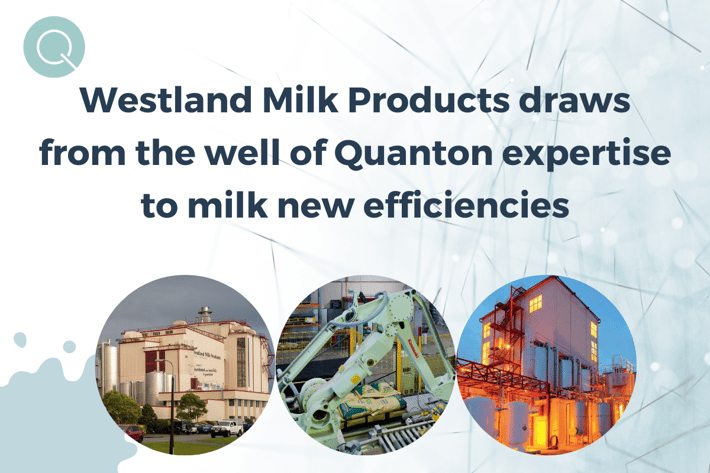 Gareth Mitchell, Westland Milk Products Head of Digital and Improvement, made a telling comment recently.
Talking about the automation work Quanton has done with Westland – one of New Zealand's largest diary processor and a $1 billion revenue company – Gareth noted: "If we had to keep coming back to the well to have someone develop something for us, then we might be saving time and money on the end process, but we'd be spending money on saving time and money. That's not as efficient as the way we do it."
Indeed, since our early foundation work with Westland Milk Products some three years ago, they've had very little need for us. And that's something we're proud of, because we didn't just sell them the technology – we provided them with the expertise they needed to run the robots in-house. Yes, they do call on us occasionally for additional expertise, but for the most part, they're happily deploying new processes successfully on their own.
And that's a key factor for Quanton: We're not here to simply sell RPA.
We're here to enable New Zealand businesses to do more with RPA and to reap the full benefits of the technology. As Gareth himself says Westland's team know what works and where RPA can play a part in their business. They just needed the early guidance and training to provide the skillset to deploy the bots.
Like many companies, Westland Milk Products faces a challenge in finding new staff, particularly given the remote location of its main plant in Hokitika. Gareth tells us the company already employs about half the town as it is. Finding new staff then is even more challenging than for most, and Gareth is open that he wants the team they have to be doing high-value work.
Add to that the legacy systems collected in nearly 90 years of business, and the fact they're a major exporter, about as far from their export markets as they could get, and Westland was ripe for automation. In fact, they were already well acquainted with automation via OT on their plant.
They teamed up with Quanton three years ago to establish the foundations for their RPA practice.
Quanton delivered the bots into the business and helped train Westland's own team – a team drawn from the operations side of the business, rather than the IT side. They're the people who really understood where RPA could add value.
And add value it is.
Westland now has three robots in place, including one handling accounts payable automations and one delivering sales orders into the ERP system. A bot also collates shipping line information from multiple websites and shipping lines, feeding it into Westland's shipping system and ERP system to provide a real-time view of all movements.  
With the company recently launching its butter into the lucrative US market, Gareth is eyeing up RPA and added intelligence to further streamline and speed up processes, ensuring products get into consumers hands as fast – and efficiently – as possible.
We look forward to the next stage of the journey – and to even greater success for Westland Milk Products.