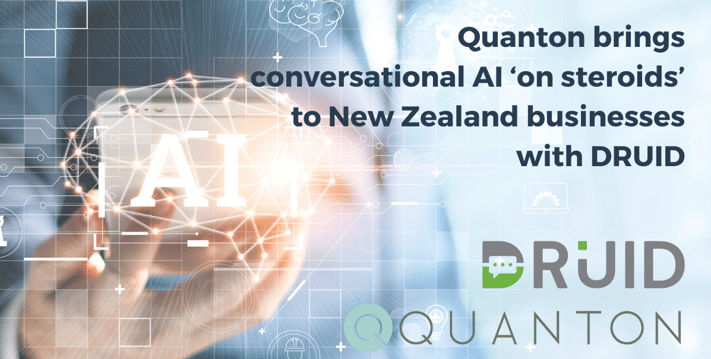 Recently, we had some exciting news announcing our new partnership with conversational business applications platform provider, DRUID, a global leader in conversational AI for enterprise technology.
Conversational AI has been having its time in the sunshine recently thanks to the phenomenal rise of ChatGPT.
But we're not talking consumer fun and games here. With DRUID, we're giving local organisations across all verticals the chance to harness a powerful technology to improve both customer and employee experience.
Because you can't amplify customer experience, without doing the same for your employees. EX very much equals CX.
Conversational AI is one of very few technologies, if not the only technology, to address both.
Ruby Pulvirenti, DRUID Vice President of Sales – Australia and New Zealand, made an interesting comment about the subject.
She noted that there's little point enabling your customers with amazing technology experiences through Virtual Reality, Voice Response, or Conversational Virtual Agents, that would allow them to know more about your product or service – if you're only giving your employees basic tools anchored to clunky processes and disconnected back-end systems, or worse still, paper-based. For example:
Retail store people on the shop floor with only written memos about inventory…when their online shopper has a VR and VA experience that includes recommendations about the product they want to buy, complimentary products and real-time stock availability.


Healthcare schedulers who rely on either a whiteboard and/or an Excel spreadsheet for booking surgeons and anaesthetists…for patients who onboarded themselves as a hospital patient with the help of a VA that could not only read their driver's license and Health Insurance card details but also guide and help complete their required forms submissions for the upcoming surgery and subsequent billing.


Higher Ed student administrators who use also paper based and spreadsheet systems for managing a student cohort's graduations…when students who are arguably the most digital of audiences manage their enrolment and reenrolments online again with the help of a conversational VA.
Ruby adds, "They need quality tools to believe in and feel good about their employer's brand and the culture, and through those technology tools be empowered to authentically and consistently represent that brand and culture to customers."
And that's where DRUID's conversational business applications come into play.
The DRUID conversational AI assistants enable fast, personalised, omnichannel and hyper-automated interactions across multiple languages, via open integrations with any existing enterprise systems and automation technologies inside an organisation.
It's a technology which empowers the solutions we already offer and to the benefits businesses can extract from their systems. And by bringing more AI and more intelligence to the bots and the products we already bring to market, and enhancing and automating processes, it's the next step in business automation and improvement.
DRUID is looking beyond Conversational AI as technology and enhancing it with the power to understand the business context, trigger intelligent actions and interact with human companions to deliver real value for businesses, employees, and customers.
When you connect Conversational AI technology with data, enterprise applications and business processes or build applications that can naturally interact with humans, then you move past Conversational AI as a technology towards value-driven Conversational Business Applications (CBA).
Imagine an AI-powered digital assistant that feels like conversing with a human and can provide round-the-clock personalised information about your products and services, as well as naturally guide them through processes, all while connecting in the background with core business systems and applications and can check and validate data inputs and make decisions based on that.
Or one that sits across your ERP system, CRM, or any other key application to support your employees in completing daily tasks while becoming their AI co-pilot.
It's a new category of conversational AI technology called conversational business applications, and it is what DRUID enables.
And, yes, you've heard me say this before, but I'll say it again: This isn't about replacing or taking over an employee's function. These capabilities are here to augment existing talent and provide 'headroom', freeing them from the mundane to enable more focus on better customer outcomes, higher value work and a happier employee experience.
Welcome to the future! We're looking forward to helping introduce you to it (and you to build your own tailored one!)