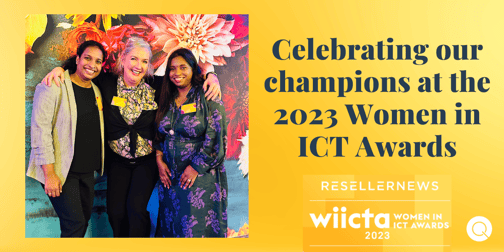 Proud moment as we supported and celebrated 3 of our talented members nominated as finalists for the 2023 Women in ICT Awards (WIICTA). These awards honour female excellence across the New Zealand tech channel and female front runners who have become influential figures across the local industry.
Strategic Savvy is our Strategic Engagement Director Ursula Riemer who was a finalist in the Entrepreneur category - which recognises an enterprising candidate with a risk-taking mentality, honouring excellence in launching new ventures, products or services.
Ursula demonstrates an entrepreneurial mindset in identifying opportunities to positively disrupt the market and bring new products and services to market to make Quanton more sustainable. Her vision to create a competitive point of differentiation by combining AI, automation technology with Lean Six Sigma process improvement methods, to support and improve customer processes and drive revenue for clients.
Marketing Maverick Marketing Manager Sai Chaitanya was a finalist in the Innovation category - an award recognising a creative-thinker who is a standout in bringing innovation to life through a big picture and out-of-the-box approach to business.
At Quanton, Sai is instrumental in increasing brand visibility, lead generation and audience reach for us. She's a creative thinker and her proven track record of delivering projects on time and within budget has meant leading successful projects time and time again.
Automation Ace Automation Technical Lead and Solution Architect Ushaswi Garipally was a finalist in the Rising Star Award - which recognises a standout candidate rising through the ranks within the ICT industry, and growing through demonstrating outstanding business acumen, deep market expertise and high levels of professional integrity.
The scope of Usha's work has varied, including development, design, quality assurance and technical lead and she has built up a breadth of experience across Blue Prism's architecture, design, deployment, as well as management skills enabling her to mentor and guide multidisciplinary teams.
CONGRATULATIONS TO OUR STAR FINALISTS AND TO ALL THE WIICTA2023 WINNERS!