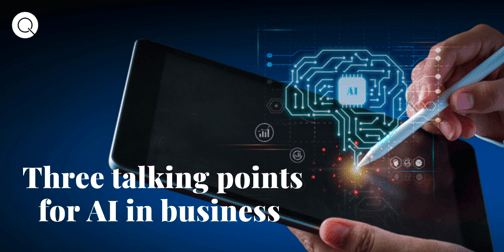 In appreciation of AI Appreciation Day, Quanton's Garry Green outlines three hot AI talking points and how New Zealand businesses are harnessing the technology to unlock new business value.
Summary
ChatGPT has provided the foundations for users to understand the technology. Now business has to hone in on the use cases.





Conversational AI and bots is already enabling New Zealand organisations to get more strategic in their growth, without having to throw ever increasing staff into the mix.





ChatGPT requires user skills in order to harness its full benefits.
ChatGPT is apparently pretty enthusiastic about AI Appreciation Day – and for that matter AI itself.
Asked to create a poem for AI Appreciation Day (which is on July 16 UTC- ), it espoused:
"In the month of July, a special day we embrace
"To honour AI's brilliance, in this digital space
"A day of appreciation, where we gather and say
"Our gratitude for AI, on this special occasions display."
While ChatGPT is certainly not about to win any poetry awards, there's plenty of evidence that AI has the potential to unlock economic value for the New Zealand economy. Back in 2018 a report by AI Forum said the technology had the potential to increase New Zealand's GDP by as much as $54 billion by 2035 with industries across the board expected to benefit to some degree or other.
Garry Green, Managing Director and Founder of New Zealand business automation specialist Quanton, believes that potential is only at the infancy stages and Kiwi businesses are already leveraging in a number of ways.
1. ChatGPT is a great learning tool. Now Kiwi companies want to go further with generative AI.
Green says ChatGPT has been a great learning tool to enable people to see what the capability of generative AI is. But the question for business is how they can harness it and link to other technologies and ways of working to gain competitive advantage.
"Our clients can see the technology is very useful, but it's how they can use it to augment their teams and make a difference," he says.
"One example we're seeing demand for is having your own private ChatGPT instance where you can mine your own data and make quicker, better or more informed decisions or get new views on the knowledge and information you've already got."
Conversational AI offerings which provide a conversational user experience layer to business systems can enhance the user experience for both customers and employees, providing a virtual agent that mines back-office applications and surfaces the content quickly and efficiently.
Such technology is enabling fast, personalised, omnichannel and hyper-automated interactions.
"We're working with organisations who are limited on funding, reach or legacy ways of operating, that are using conversational and generative AI and bots to increase interactions and help coach and educate people to change their habits to live healthier, better lives," Green says.

2. AI will enable organisations to get strategic and productive rather than just throwing more people at business problems
For years, New Zealand organisations have added more people into their businesses to solve problems and increase outputs – effectively throwing more people at their problems but not increasing productivity.
Now, many are asking how things can be done better, more effectively and with better outcomes and how they can scale more rapidly, without having to employ vast numbers of additional staff.
The answer lies in a combination of people, technology, data, systems and processes and new ways of thinking and operating.
Automation and AI are levers to improve productivity and increase velocity so work is done more quickly and effectively at much lower cost. It can reduce reputational risk, delivery or quality risk, frequency of errors and provide better visibility enabling actions to be taken earlier to prevent issues.
And it's a big competitive advantage for Kiwi businesses – one that companies are already moving on.
"Businesses need to look at how they can make use of AI now, because your competitors already are, and those that don't will be outperformed and may never catch up," Green says.
3. ChatGPT requires user skills in order to realise its full potential.
Generative AI such as ChatGPT has been trained on a huge source of open-source data.
It needs to be used with caution. Firstly what you put in becomes open source as well – so there could be privacy issues. Also you need to ask the right question, and know what is right and what is wrong. Subtle rephrasing can completely change the response received. The responses you receive are very convincing – but check them or better still use your own private instance of the tool, that has been trained on your data or knowledge base.
Knowing how to talk to each AI tool and train them will be critical for all users. So too will vetting its outputs.