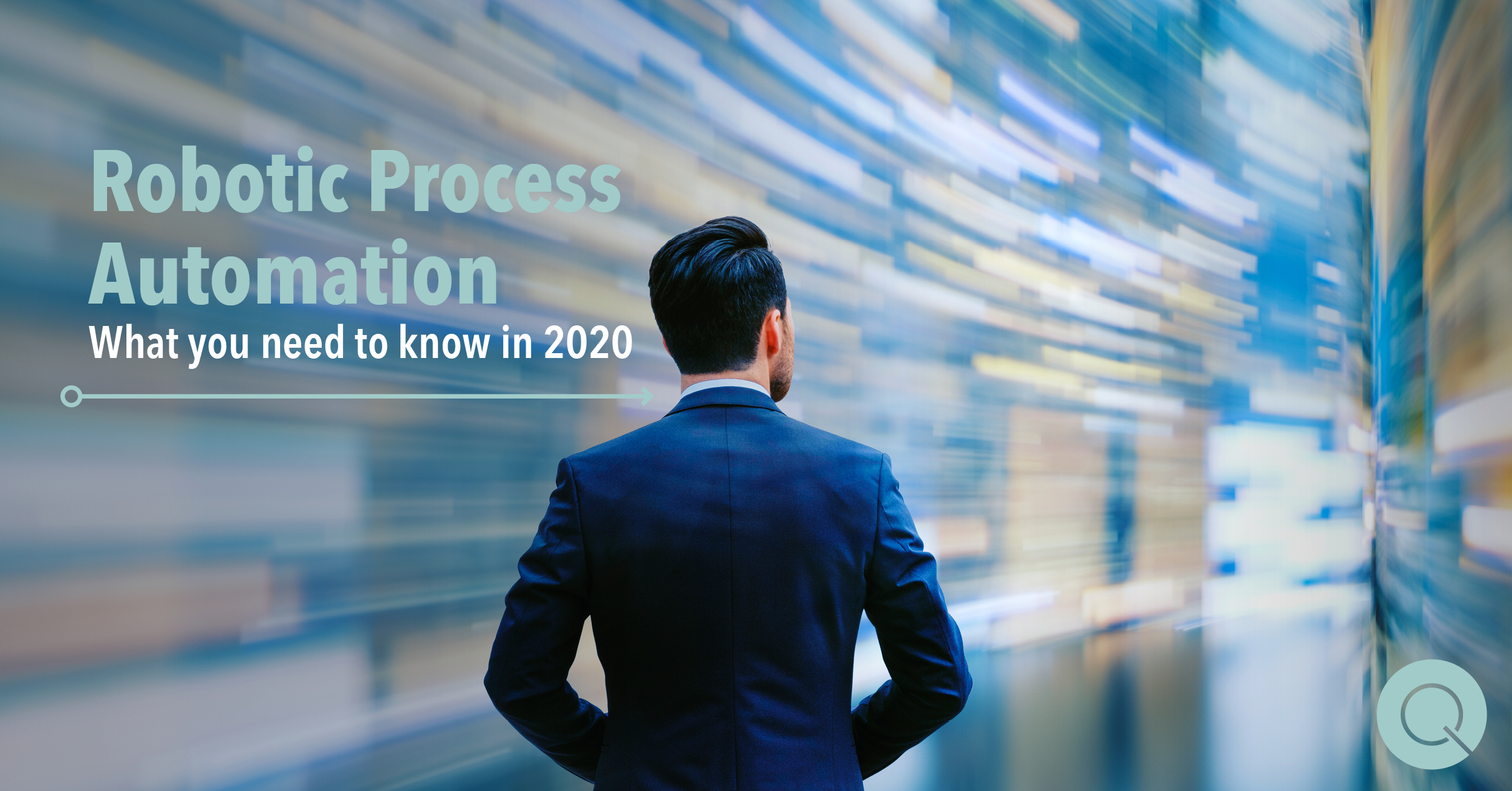 From beginners guide to action plan, the 2020 guide reflects deepening RPA knowledge and demand.
Three years is a long time in technology. And for Robotic Process Automation in New Zealand the last three years have brought massive changes. Reflecting the growth in the New Zealand market, we've published Robotic Process Automation: The 2020 Guide.
Back in 2017 - when we launched our first Complete Guide to Robotic Process Automation - whenever the team at Quanton were talking to anyone about RPA, the first 20 minutes of any conversation were devoted to explaining what RPA was - and wrapping our heads around invisible robots that would execute processes.
Today, Kiwi businesses understand RPA - how software robots can be used for autonomous end-to-end execution of business processes and tasks, allowing you to 'virtually' integrate systems, with human exception management. Robotic Process Automation: The 2020 Guide reflects the level of knowledge and understanding in the market and addresses the questions innovative people want to understand to make informed decisions around the technology.
Against a backdrop of big name organisations such as Toyota Financial Services and healthcare providers including OmniHealth and Hutt Valley District Health Board embracing RPA, companies are coming to us having already made the decision to add RPA to their business.
They want advice on the implications and the best steps to harness business process automation so their business can achieve real benefits - from increased speed and agility, to extended operational capacity and resilience, improved customer experience, cost controls and data quality improvements.
Robotic Process Automation: The 2020 Guide reflects that market change, providing a comprehensive overview of what you need to know to drive RPA within your business and reap the benefits of the technology, right from the pilot stage.
A Guide for innovative drivers in Kiwi Businesses
We have written the 2020 guide for the initiators and drivers within New Zealand's enterprises - the ones who, no matter what their level in the company, want to drive transformational change within the business and to find the biggest six they can possibly hit and smack it. In doing so, driving their career or business forward as well as taking the company on its journey.
They're the innovators, the initiators, the drivers, the ones who want to drive change in the business and who want to understand what transformation RPA can bring their business.
RPA: The 2020 Guide - the key insights
Our guide is what you need to know right now about Robotic Process Automation in NZ, including the top five business process automation trends for New Zealand in 2020.
The convergence of automation and smart technologies

The democratisation of automation to citizen users

The shuffle from targeted solutions to scaled programmes

The increasing spotlight on transparency, traceability and ethics

The rise of AI as a service



But we also get down to the nitty gritty with recommendations and action points around the five most common questions people ask to understand how Robotic Process Automation could be applied to their business.
Those questions?
1. What is the return on investment and how quickly can you realise value?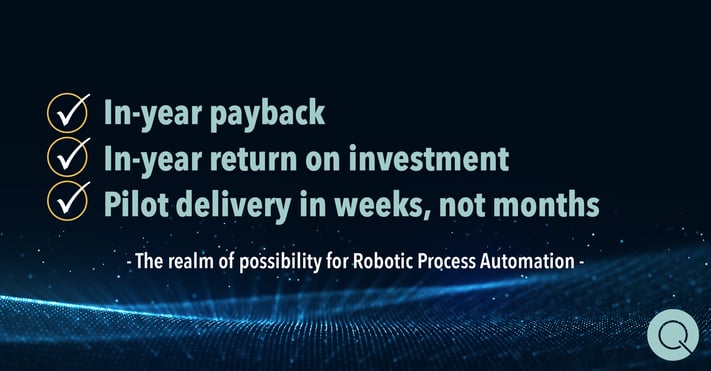 Did you know in-year payback, year one return on investment and pilot delivery in weeks, not months, is all possible with Robotic Process Automation?
Rapid speed to value is a feature of Robotics Process Automation, and we've delivered pilots to production in five weeks, but at the same time it is also possible that a pilot could take two-three months. Careful identification and selection of processes is key here; process complexity, scale and process size are all factors.
Getting the pilot up and running is, of course, just the first step, but it's realistic to identify processes that have pay-back profiles of six months and we routinely see processes with nine to 10 month pay-back profiles in New Zealand businesses.
Longer term benefits of up to three years are also on the cards for some businesses with individual businesses prioritising processes based on metrics such as customer experience improvements or risk mitigation.
Existing frameworks, however, are often geared towards minimising risk - rather than enabling speed and agility, so setting up an innovation or incubation hub can help enable the rapid transformation you're after.
Determining the required or target level of return on investment from your leadership team is a critical first step, and Robotic Process Automation: The 2020 Guide offers guidance on how to do just that.
2. Who else in the market is using Robotic Process Automation?
(Spoiler alert: We include three quick insider looks at Quanton customers, their RPA programmes and the benefits they have achieved, along with links to full case studies for each.)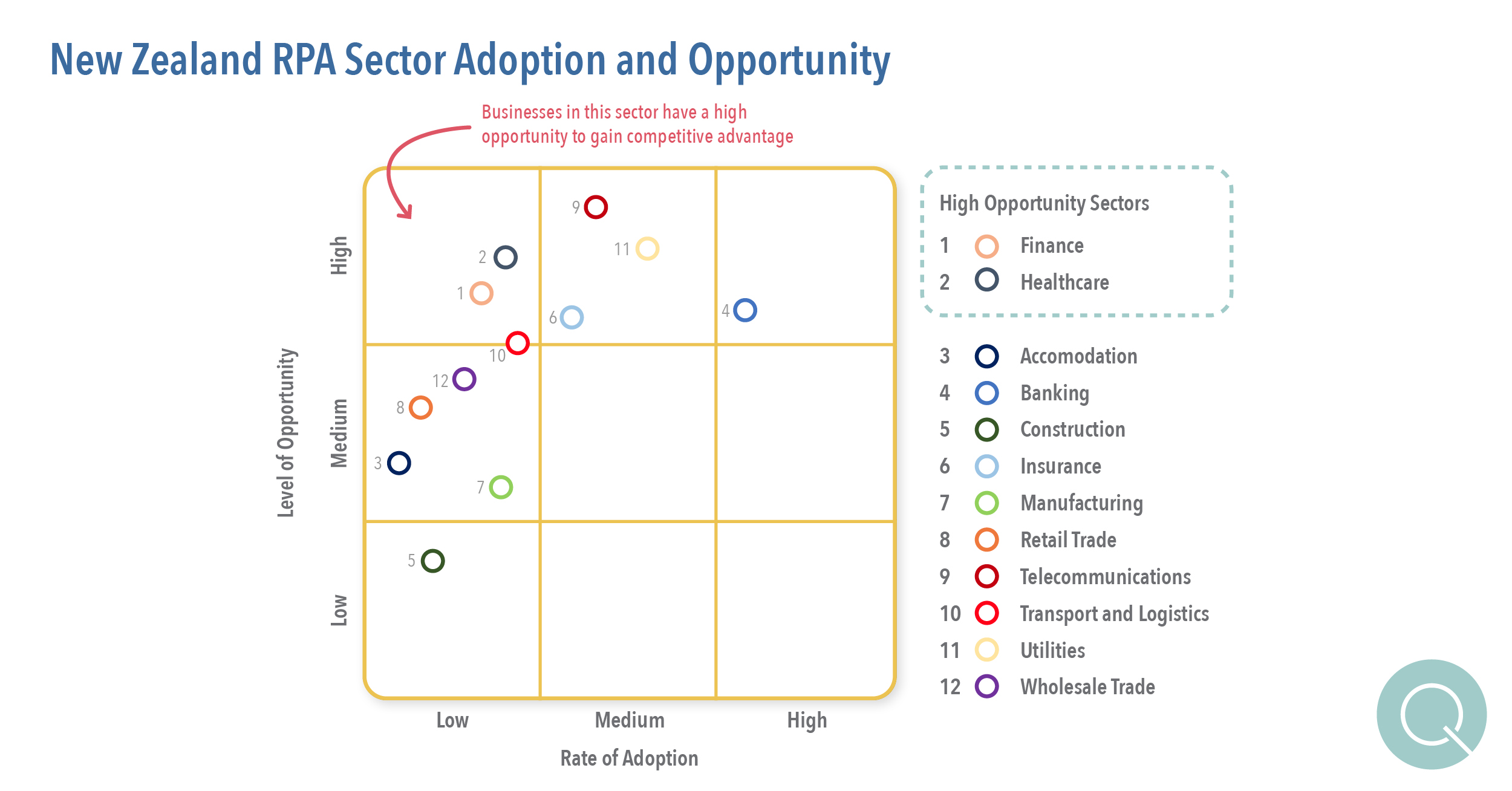 Here at Quanton, we've seen customer numbers more than treble in the past three years. With rapid growth in the number of customers scaling their pilots across the total business and industrialising their programmes.
Once the domain of the enterprise customer, in particular the financial services and health sectors, RPA is also moving across a wider range of businesses. There are now few sectors in New Zealand that don't have at least one successful RPA programme in play.
And the opportunities for many sectors – including health, finance, insurance, telecommunications and utilities, are high.
3. How do businesses usually start?
Start small, think big - that's our motto here at Quanton.
Find a right-sized, low complexity process in a friendly area of the business that proves value relative to the strategic drivers - but consider from the beginning what will be required to develop your programme, creating the foundation and setting expectations for programme parameters while you are delivering your pilot.
While it sounds easy, there are some pitfalls to avoid, including approaching a programme using project orientated methodology. You'll need a more holistic framework that covers areas including pipeline and delivery management, governance, business continuity, organisational design, service models and change management - a key, but often overlooked, component of any successful RPA programme.
And don't automate a broken process - but if there are opportunities for improvement in a process, RPA will provide the rich layer of processing analytics to enable quantifiable insights for future improvement.
4. IS RPA business led or IT led?
We're all for a business led, IT supported philosophy.
RPA is 10% technology; 90% process and our experience shows programmes are more successful when the business takes ownership for the impact of change management and programme management.
5. How much investment is required?
Sorry, there's no simple answer with this one. As a very general guideline, businesses could expect to invest 30-40% of target benefit as a total cost of ownership cost, on a programme that is uniquely designed and right sized for a business.
Our guide gives pointers on the factors influencing investment requirements - and how to flip the question to gain new perspective.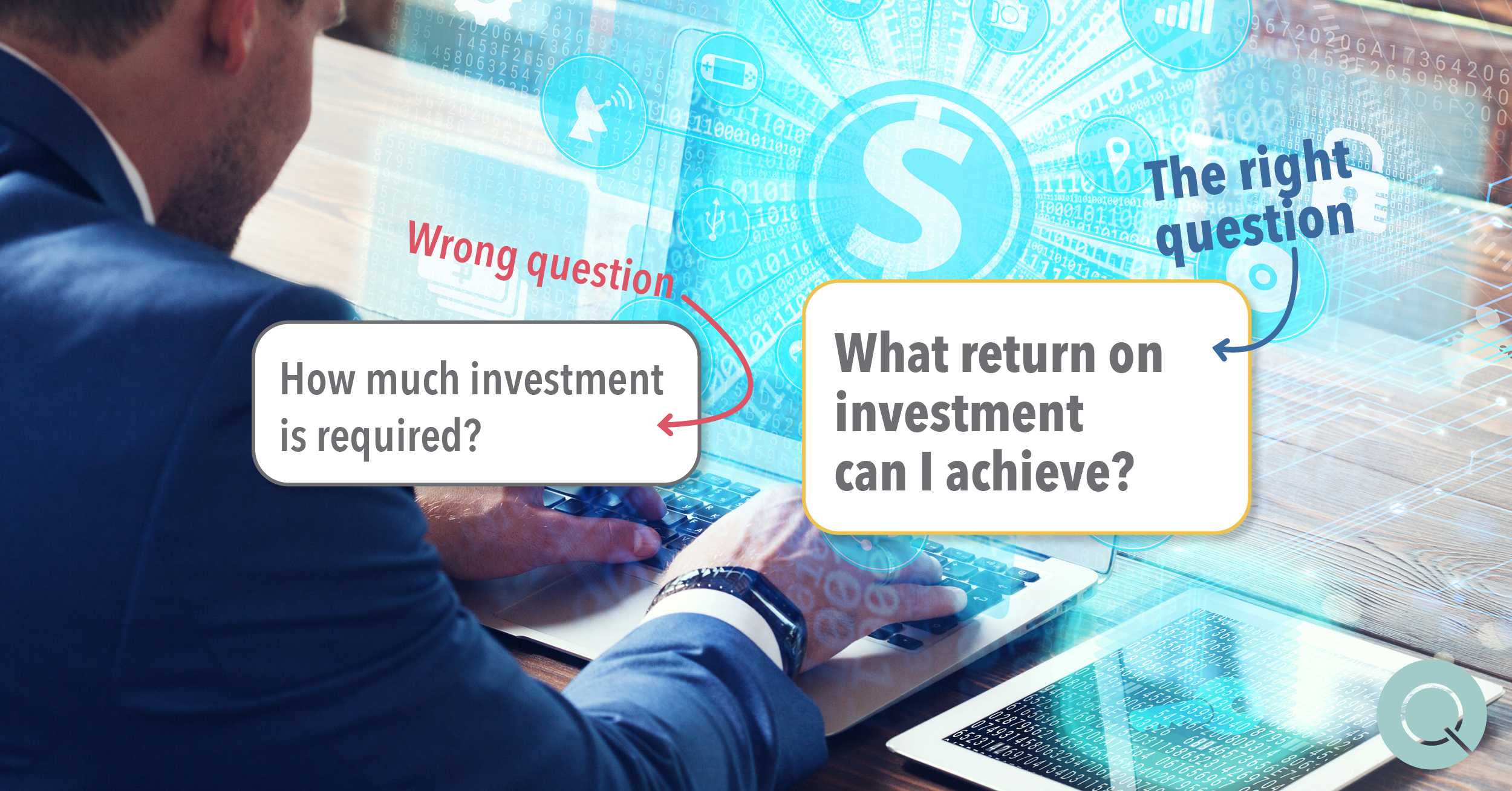 A practical guide
Each of the sections within Robotic Process Automation: The 2020 Guide comes with recommendations and action points to set you on your journey in the most effective way, providing tips and tricks we've learned over five years of working with RPA in the New Zealand market.
And if our guide helps you validate RPA's business value for your unique business, we also offer up a pathway to implementation:
Clarify the current strategic drivers for your business
Determine what you are trying to achieve
Find where in your business you'll get the most value from automation


You'll find all the information you need to start your automation journey, in our latest publication: Robotic Process Automation: The 2020 Guide.