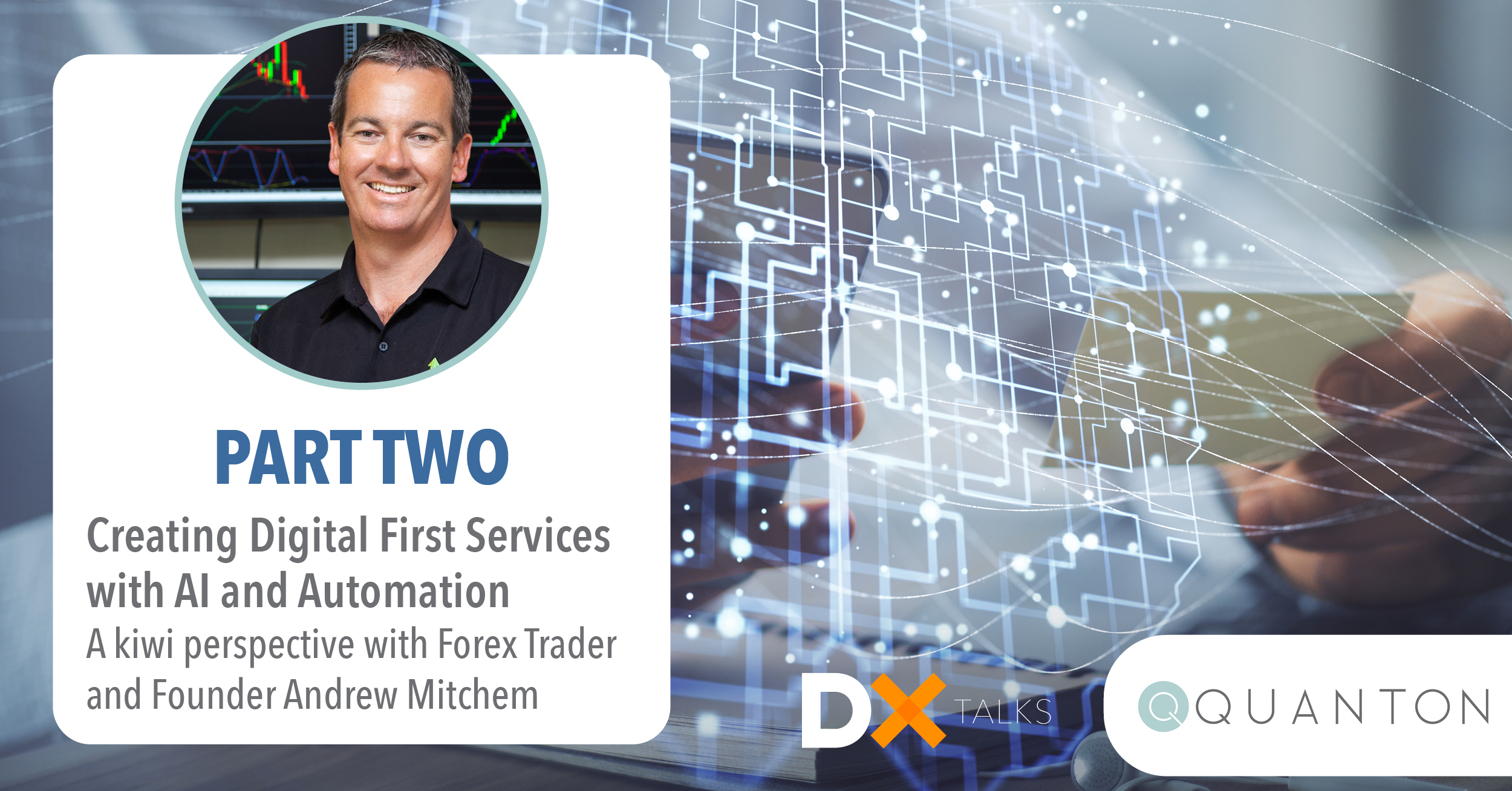 Part two of a Two-Part Series
We share our top five takeaways from speaking with Kiwi professional Foreign Exchange (FOREX) Trader, Funds Manager, and Forex Trading Coach Andrew Mitchem. He shares his journey to create the TFTC Patter Trader, a digital first product underpinned by Machine Learning and Predictive Analytics.
This month we launched DX Talks Season Two featuring an interview with Andrew Mitchem, a professional FOREX trader and co-founder of TFTC Pattern Trader, a platform which augments or automates FOREX trading with Machine Learning and Predictive Analytics.
In Part One: Creating Digital First Services With Automation & AI, we introduced TFTC Pattern Trader, a SaaS platform which Andrew and his co-founder delivered to market as a live minimum viable product in 12-months from ideation and has since gained over 200 paid users.
Andrew's story is of creating a SaaS offering, but the approach, lessons and philosophies are equally applicable to innovation and the transformation of products and service delivery, either holistically or as a sub-set of a total business model.
Today, in part two of this content series I share the top five lessons we can take from Andrew's journey. If you listen to the podcast or watch the video, these differ slightly from the five I gave at the end of the interview, now that I have reflected and taken in the detail of the conversation.
Note: The audio and video files presented in this content feature are the full interviews originally published on March 2nd, 2021.
Five lessons we can take from Andrew's Journey
Takeaway One: Understand your why.
Understand what is driving you, what your overriding cause or goal is.
Understand what you want to enable and what value you want to create in the world, which is a concept made famous by Simon Sinek.
Interestingly, this is also the over-riding element of the OpenExo framework - having a massive transformational purpose.
Andrew took this a step further and discussed the importance of having a story that supports your why, to help make what you are doing relatable to people.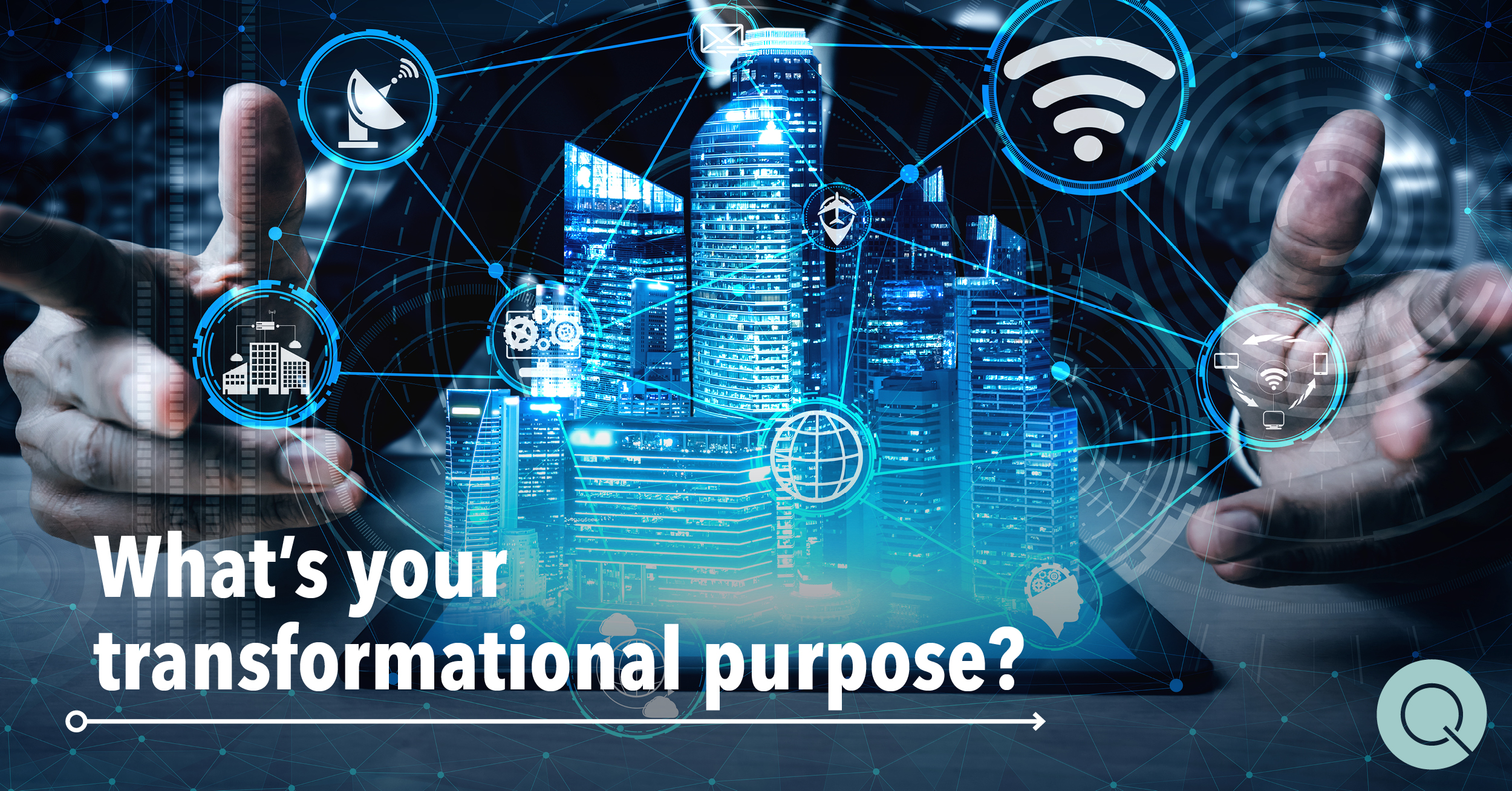 Takeaway Two: Don't limit the potential for innovation within the constraints of your existing business model.
Look at the problem you are trying to solve or the outcome you are striving for, through the lens of possiblity and try to avoid restricting yourself within the constraints of your existing business model.
Attempting to solve problems, purely within the scope or context of your existing operating model limits potential innovation and necessarily new value for customers and businesses.
In addition to using fit to business model as a first screen, also consider alignment to strategic drivers and core purpose.
The intent is not to suggest that alignment to current business models is not a factor, it is to encourage people to ideate with a blank canvas. To start from the perspective of possibility, and you might be surprised where it leads.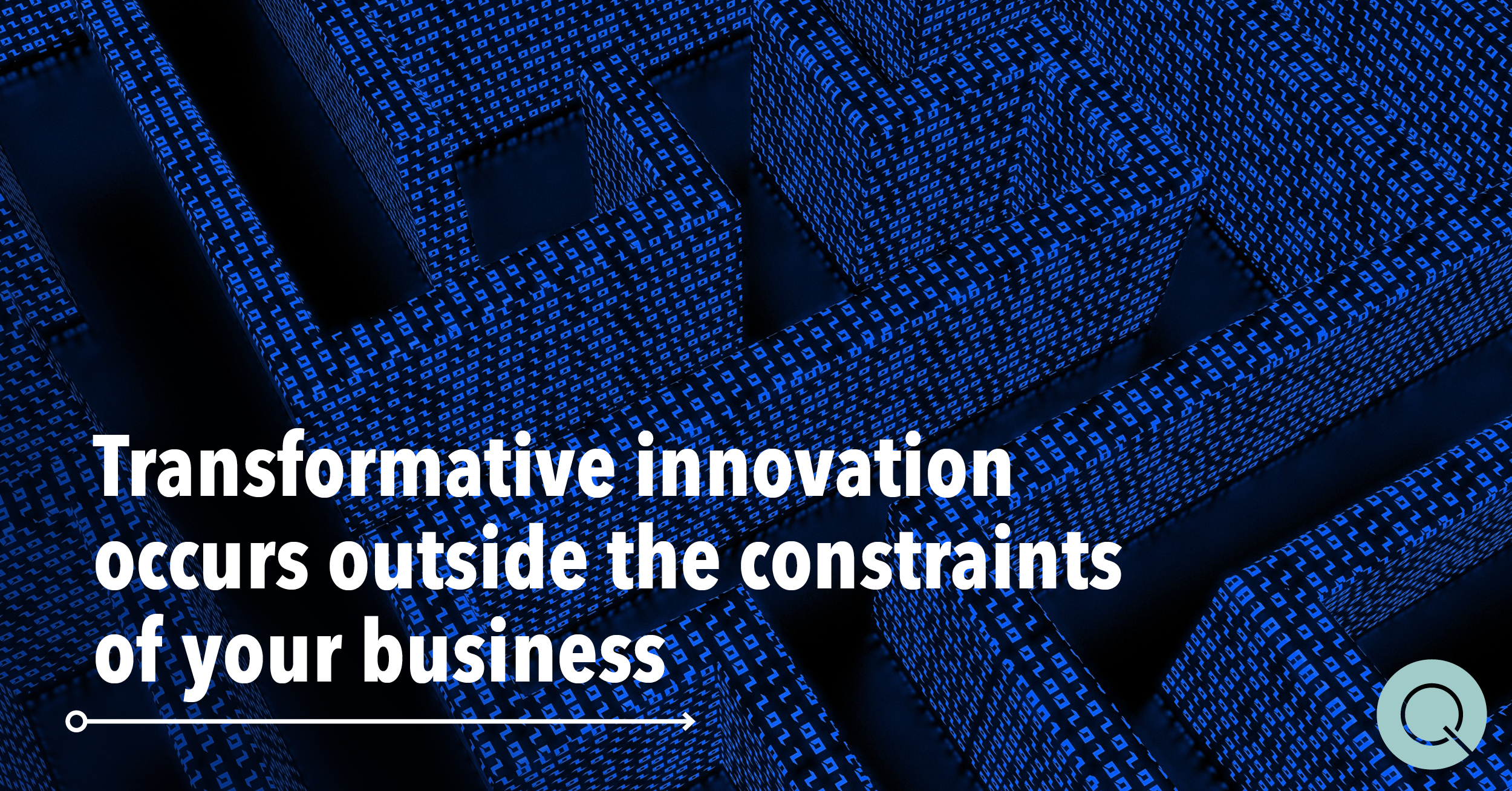 Takeaway Three: Be customer centric.
Being truly customer centric is easy to say and often much harder to execute and I know very few organisations who can genuinely profess to being so.
In an environment where the customer experience is considered a strategic advantage, there is a direct dependency on understanding who your customer or user is and focussing with a laser target on the value you are creating for them.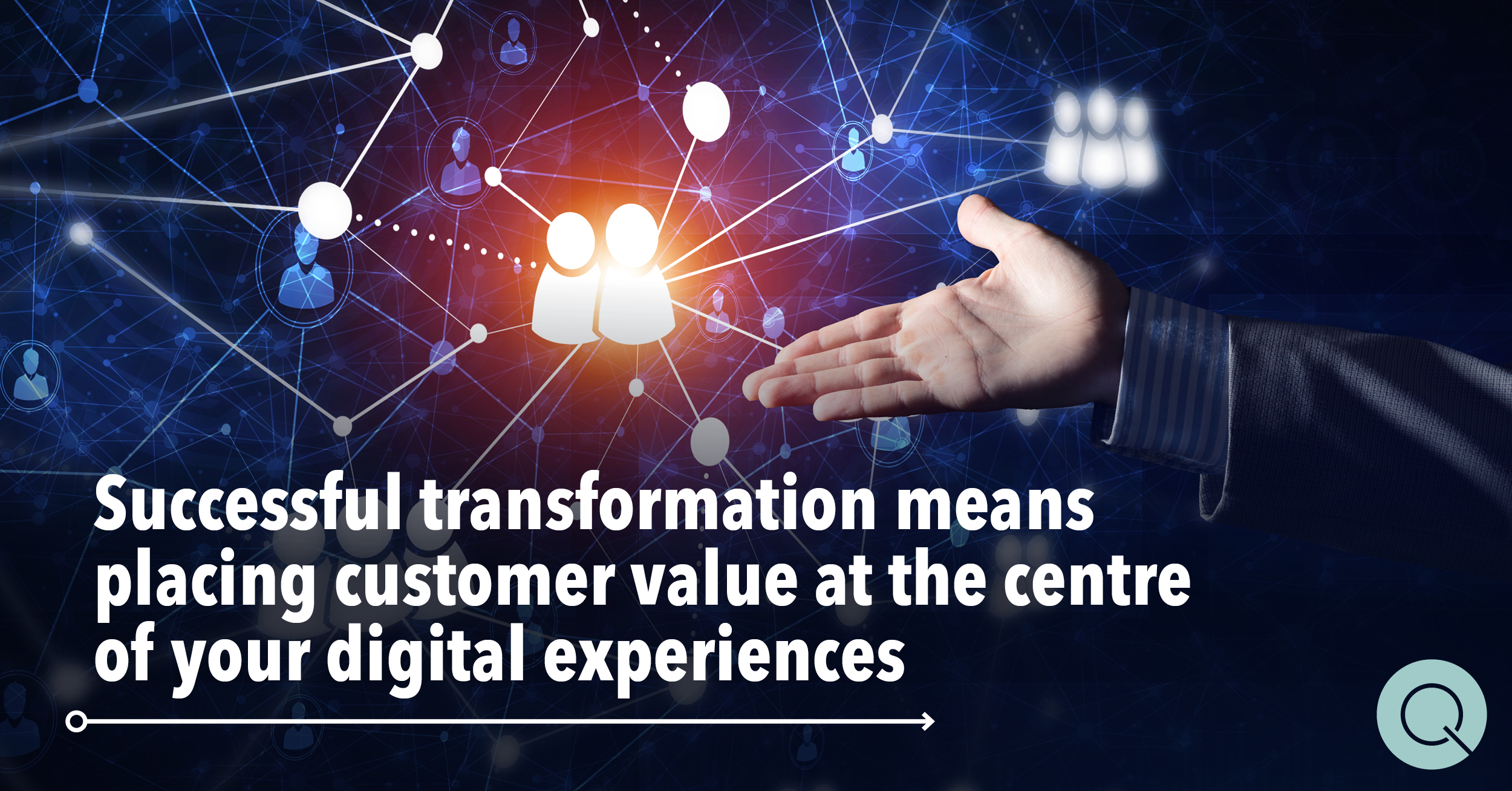 Takeaway Four: Be agile.
Agile is arguably one of the current buzzwords of the business world.
In 12-months Andrew and his partner delivered a SaaS platform to market as a minimum viable product. Since then, they have continued to improve the product through on-going iterations and in less than a year since launch have attracted 200 paid users.
The journey is a great example of how taking an agile approach can allow organisations to drive change or bring new products and services to the market.
In this case the two key aspects are starting with the minimum viable product and iterating.
Andrew was clear on what the minimum viable product had to be and what the experience they wanted their users and customers to have with the product.
Having this understanding, I believe is a major enabler for rapid creation.
Gartner present a concept called Total Experience, which they have ranked second in their top 2021 strategic technology trends.
Total Experience combines the customer experience, employee experience and multi experience. Multi experience is about leveraging multiple digital touchpoints and devices to design and develop a seamless experience for customers.
The opportunity, according to Gartner, is to execute changes or improvements that drive change at the intersection of these three pieces, which is where value can be obtained.
Understanding factors like Total Experience and your own strategic drivers, can help guide iteration and ensure potential value for all parties is optimised as products and services evolve.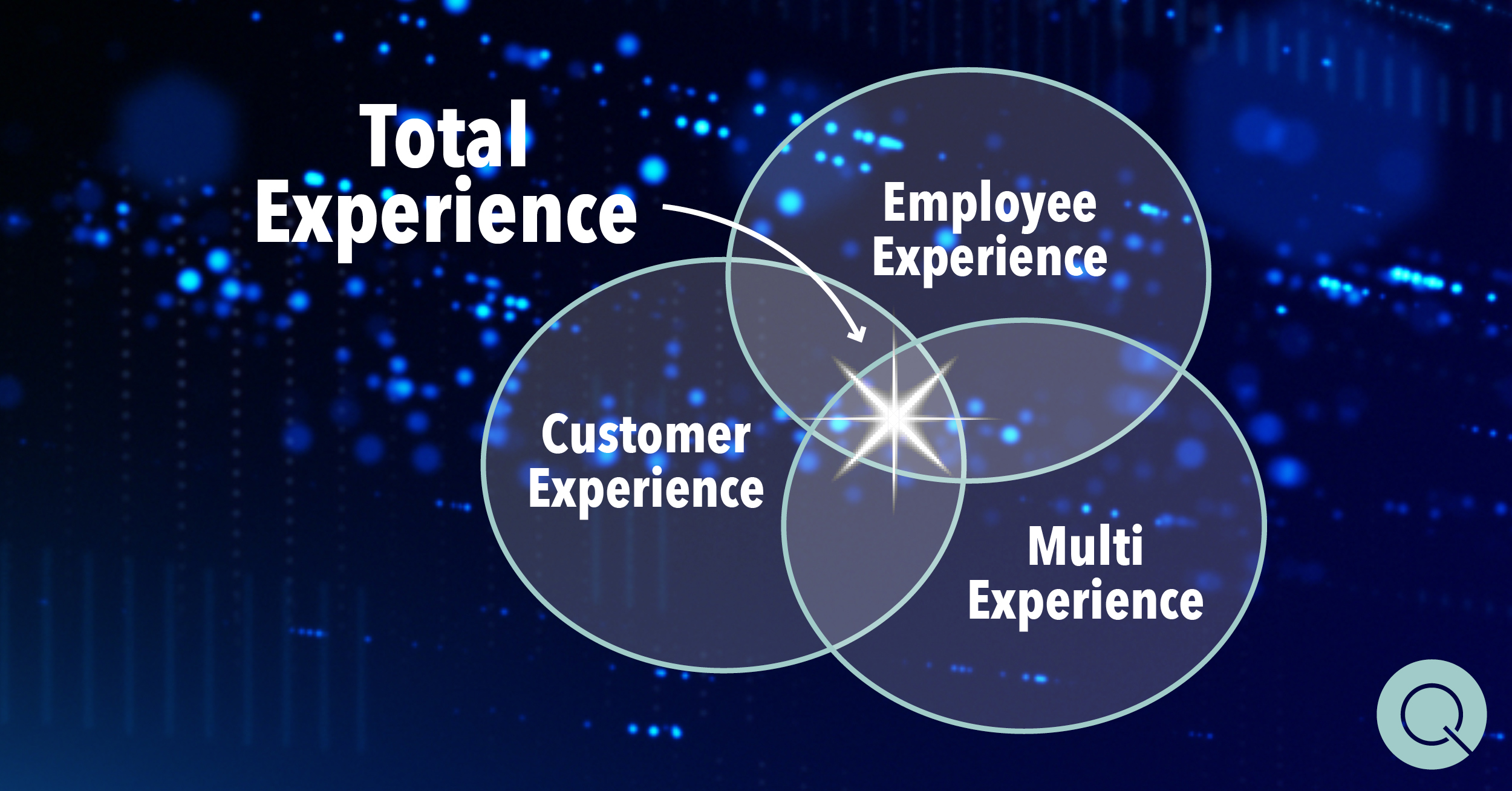 Takeaway Five: Know what you bring and where you can be strongest.
Andrew's story is a great example of what can be achieved when the right people are involved, in the right structure.
This message was also echoed by CX Automation Leader, Liam Delap, when he said you have to understand if you are a widget provider who is enabled by technology, or a technology provider who happens to sell widgets. Understanding what role you want to play, and what role you want your business to play, greatly determines how you approach innovation and certainly how you bring it to life in your organisation.

While these are the five most pertinent takeways I wanted to highlight from my conversation with Andrew, there were many more small nuggets in the conversation, and I encourage you to listen to the podcast episode or watch the video interview, and of course you can subscribe.
Andrew's journey shows us that AI and smart technologies can be used for the advantage of businesses of all sizes. His approach demonstrates what is possible when we thing beyond the constrains of our existing business models and find the right partners.
How do you approach a journey like this with your own business?
Andrew left us with a great place to start. Know your 'why'.
Know what change you want to achieve and what outcome you want to create. From there, if you can think beyond the constraints of your existing business model, who knows what the future possibilities will be.
Stay tuned in for Quanton's next content feature, an interview with Daniel Gallancy, CEO of Atakama, on enhanced security and data integrity.